Preventing the Next Pandemic Isn't Complicated…Just Difficult
Jonathan D. Quick, MD, MPH
Managing Director, Pandemic Response, Preparedness and Prevention, The Rockefeller Foundation
Thursday, August 6, 2020 at 09:00 am Pacific Time (US and Canada) via Zoom
If you are an NSF member, you will receive an invitation by email to this online event. Please check your email and RSVP your attendance. If you would like to attend this meeting, become a member today!
Here are the details for our August 6th program:
As the United States grapples with rapidly increasing cases, illness, and death from the COVID-19 pandemic, many people across the country and the world are asking; What can we do to avoid the next pandemic? What are the long-term impacts to US national security and global security from COVID-19? What do we need to learn now from our response and recovery to COVID-19 to avoid lessen the toll on society and the economy in the future?
NSF is honored to have an esteemed expert on this topic present his ideas on how we lessen the blow of the current pandemic and prevent the next one. Dr. Jonathan ("Jono") Quick is the internationally known global health expert with decades of experience addressing the questions above and many more. Battled-hardened from working in the trenches of many epidemics and health crises nationally and internationally, Dr. Quick presciently authored the book "The End of Epidemics," which was released in 2019.
By framing the COVID-19 pandemic in the context of 100 years of epidemics including 1918 flu, smallpox, AIDS, SARS, bird flu Dr. Quick will shed light on why is has been so difficult to apply lessons of history to preventing pandemics. He will also suggest concrete actions that the US and world can take now to stop the next novel virus from going global and devastating lives and livelihoods, and economies.
A stark reality is that we are firmly in the grip of COVID-19 with cases and deaths in the Nevada and the country on the rise. On a brighter note Opening Day for Major League Baseball was 23 July giving many of you sports fans a much needed break from doom-scrolling news feeds. In that vein, Dr. Quick will share his reflections on COVID-19's first three innings and insight on the what preparations are needed to get us through the next six. Actions taken now may even give our communities and the economy a 7th inning stretch before winter, which could go a long way to strengthening US national security.
Come join us for an enlightening presentation designed to restore our strength and resolve to end the next epidemic before it starts.
Here are a few links to writings, interviews, and podcasts that may be of interest. More can be found at The End of Epidemics website: In the News and Podcasts.
COVID-19: A blueprint for keeping the U.S. economic open

Rockefeller Foundation panel discussion,

What We Can Learn From the 20th Century's Deadliest Pandemic

, Wall Street Journal Saturday Essay, March 6, 2020
---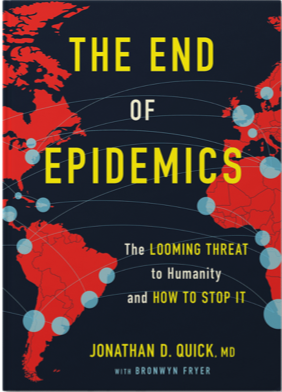 Dr. Jonathan "Jono" Quick joined The Rockefeller Foundation in 2020. An internationally known global health leader, Jonathan ("Jono") D. Quick, MD, MPH is the author of The End of Epidemics: The Looming Threat to Humanity and How to Stop It (2018). Offering evidence-based ways to prevent epidemics from spreading worldwide, Dr. Quick has been interviewed by North American, European, and Asia media during the current COVID-19 global epidemic, including the BBC, CNBC, CNN, ABC News, MSNBC, and France 24. A family physician and health management specialist, Dr. Quick is Managing Director for Pandemic Response, Preparedness, and Prevention at The Rockefeller Foundation and adjunct Professor of Global Health, Duke Global Health Institute. He is also Senior Fellow Emeritus at the global health nonprofit Management Sciences for Health (MSH) where he previously served as President and Chief Executive Officer from 2004-2017. Dr. Quick has served as director of essential medicines at the World Health Organization, resident advisor for health system development and financing programs in Afghanistan and Kenya, and clinical director and chief of staff at the U.S. Public Health Service Indian Hospital in Talihina, Oklahoma.