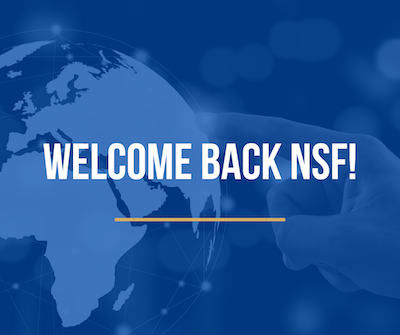 Welcome Back NSF! With COVID-19 ramping down, NSF is thrilled to be returning to in-person breakfast meetings! Our new venue is the Reno Elks Lodge at 597 Kumle Lane. The venue is very versatile with plenty of parking and no stairs. We held our Anniversary Event there in November and it worked quite well. We are also upgrading our communication platforms to host hybrid (in-person/Zoom) events. You will be able to join us at the Elks for breakfast and socializing or attend on Zoom if you are not in town. Our speakers will present both in-person and on Zoom. All of our programs will be recorded and posted on our website within a week, so if you miss one you can catch the video online.
Thank you for your patience and continued support for NSF as we upgrade our platforms so we can continue to deliver timely programs that stimulate your thinking about important national security issues.
---
The National Security Forum (NSF) is a non-partisan, educational, nonprofit organization that brings expert speakers from around the U.S. to talk about national and international security, domestic and foreign terrorism, economic and financial threats, the safety of our food and water supply, energy policy, electrical grid stability, and a variety of other topics that affect all Americans.
UPCOMING PROGRAMS
Jan. 11, 2023 – National Security Challenges Facing the US in 2023, Keith Hansen/Rae Huffstutler, In-person breakfast event at Reno Elks, 0800-1000.
February 2023 – TBD, Ukraine War 1 Year In, Hybrid Event @ Elks and Zoom
March 2023 – TBD, Domestic extremism or cryptocurrency crash (Hybrid or Zoom event)
April 2023 – (T) NSF visit to NNSS. Travel dates and logistics being worked with MSTS. Stay tuned for more details.
May 23-25, 2023 – Youth Security Forum
Subscribe to our Mailing List
Click on the button below and enter your email address as a New User to receive announcements about our upcoming programs.