Colleagues: While we wish we could take credit for arranging our very interesting National Security Forum on India under Modi, and the China-India-US relationship, to coincide with President Obama's Asian trip, but we can't. Guess we didn't realize how fast Obama would "want to get out of Dodge" after the Midterms!
Seriously, the President will be in Beijing at the time our Forum convenes Wednesday. Here is the White House announcement on the President's trip:
Statement by the Press Secretary on the President's Travel to Asia
The President will travel to China, Burma and Australia from November 10-16.  In China from November 10-12, President Obama will attend the APEC Leaders Meeting and APEC CEO Summit.  Upon the conclusion of the APEC Leaders Meeting, the President will participate in a state visit with President Xi Jinping of China.  In Burma from November 12-14, President Obama will attend the East Asia Summit (EAS) and the U.S.-ASEAN Summit in Nay Pi Taw, and hold a bilateral meeting with President Thein Sein.  In Rangoon on November 14, the President will participate in a town hall event with participants in the Young Southeast Asian Leaders Initiative (YSEALI) and meet with Aung San Suu Kyi.  In Brisbane, Australia from November 15-16, the President will participate in the G20 Leaders Summit and deliver a speech on U.S. leadership in the Asia-Pacific.  Details on additional meetings and events will be forthcoming.
///////////////
And here is the link to the NSF site with information on our Forum on India and the Asian relationships. Just click on to the link to get the information on the Forum and RSVP instructions.
////////////
As you know, controversial Indian Prime Minister Narendra Modi just wrapped up a very successful state visit to the US, made the more interesting given that up to just days before his trip he was on a proscribed "do not allow into the US" list (for his alleged role in Hindu massacres of Muslims). There is also no hiding that in the past relations between the U.S. and India have been very strained, in part due to New Delhi's close ties with the former Soviet Union during the Cold War.
Times have changed! Here is an article from the India press on his visit:
Indian Leader Modi Moves Closer to U.S. as Differences Persist
Modi Says Will Seek Closer Ties on Counterterrorism and Intelligence Sharing
Updated Sept. 30, 2014 7:37 p.m. ET
      Prime Minister Narendra Modi, left, and President Barack Obama in the White House Oval Office on Tuesday.  Associated Press
WASHINGTON—The U.S. and India agreed to forge closer defense and security ties at a White House meeting between President Barack Obama and Indian Prime Minister Narendra Modi, but the talks didn't produce a breakthrough on disagreements that have hobbled ties in recent years.
Officials said they hoped Mr. Modi's visit served to shrug off inertia and move beyond the shadow of past problems, as the two sides agreed to a modest range of infrastructure and finance partnerships that could provide building blocks for future advances.
The visit on Tuesday ended without an extended joint appearance or news conference featuring the two leaders, one indicator of difficulties between the two countries, which include India's move to block a trade agreement at the World Trade Organization.
Mr. Modi said he expects the countries to soon find a solution to the WTO dispute that takes India's food security concerns into account.
Another issue involved U.S. concerns about India's nuclear liability law, which has prevented progress on a 2005 civil nuclear deal that had been meant to transform U.S.-India ties but became a symbol of their stagnation. On that, the two sides agreed on a new interagency group to try to iron out differences, officials said.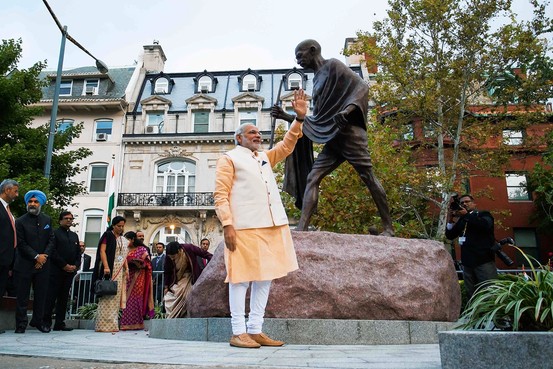 Prime Minister Narendra Modi, waving in front of the Mahatma Gandhi monument at the Indian Embassy, vowed to cooperate on key issues after a meeting with President Obama in Washington on Tuesday. 
Jonathan Ernst/Reuters
Despite months of groundwork laid by cabinet secretaries and other top officials, the visit lacked any big-ticket announcements, such as those resulting from Mr. Modi's earlier meetings with Japanese Prime Minister Shinzo Abe and Chinese President Xi Jinping, who pledged $35 billion and $20 billion respectively in investments over five years. Washington usually leaves major investments to the private sector.
However, the visit erased any lingering question over Mr. Modi's status in the U.S., which revoked his visa in 2005 over his alleged role in religious riots in his home state of Gujarat in India in 2002.Mr. Modi visited a monument to Indian independence leader Mahatma Gandhi, and the two leaders visited the monument to Martin Luther King Jr.
"The president really did enjoy the opportunity to visit with Prime Minister Modi," White House spokesman Josh Earnest said following the meeting.
For Mr. Modi, the most crucial parts of the trip may have been his meetings with heads of businesses in New York and Washington. At a speech to U.S. and Indian businesses in Washington on Tuesday, Mr. Modi said that since taking office, he had embarked on a quest to build confidence in the Indian economy among investors, promising them less red tape, adequate infrastructure and an easy business environment.
Mr. Modi is hoping his interactions will translate into deals in the coming months.
Ajay Banga, the head of MasterCard, said at the event Tuesday that Mr. Modi's visit would be remembered as one that turned the tide of India-U.S. relations. "This is a defining moment in a defining relationship," Mr. Banga said.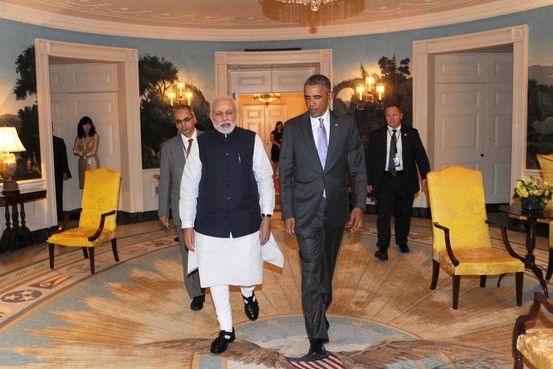 Indian Prime Minister Narendra Modi attended a dinner hosted by U.S. President Barack Obama at the White House on Monday.  
Agence France-Presse/Getty Images
The security agreements involved a U.S. and Indian decision to take "joint and concerted efforts" against Pakistan-based militant groups, including the Lashkar-e-Taiba and Jamaat ud-Dawa networks that have launched deadly attacks on Indian soil.
Syed Akbaruddin, a spokesman for the Foreign Ministry, said the two sides would work together to dismantle havens of these networks and disrupt tactical and financial support to them, suggesting that the U.S. would put pressure on India's rival neighbor Pakistan, whose once-close relations with Washington incensed Indian officials.
In a brief statement at the White House after the two-hour meeting, Mr. Modi said the U.S. was an integral part of India's "Look East – Link West" policy, and mentioned enhanced cooperation in the Asian-Pacific region, which is in flux owing to China's rise and increasing military assertiveness.
The shifting balance of power in Asia has driven the U.S. to seek closer ties with India as a democratic bulwark against China. Mr. Modi's government has announced ambitious plans to modernize its military as India prepares to counter China and potential regional instability following a drawdown of U.S. troops in Afghanistan.
Among agreements, the U.S. pledged to help India transform three of its cities into modern "smart cities" and agreed to help upgrade the water and sewage system in a hundred more.
The U.S. and India announced a partnership on improving resilience to climate-linked disasters and an initiative to boost investments, to be led by the U.S. Treasury Department and the Indian Finance Ministry.
Experts watching Mr. Modi's visit for signs of future cooperation between the two countries said the challenges were evident.
"The thing that's going to be important for both sides is to continue to find some time for this relationship, when both sides are going to be busy with other domestic and foreign-policy priorities," said Tanvi Madan, director of the India Project at the Brookings Institution in Washington.
Human-rights advocates, meanwhile, expressed disappointment that Mr. Obama chose not to showcase that issue.
John Sifton, Asia advocacy director at Human Rights Watch, said it was "pretty spectacularly disappointing" that the countries' lengthy joint statement made no mention of religious freedom.
Mr. Earnest said the topic of human rights and inclusive governance were discussed in leaders' private conversation