Date/Time
Date(s) - 07/09/2019 - 07/25/2019
3:30 pm - 4:00 pm
Categories No Categories
A Conversation with Janet Napolitano
July 25, 2019 7:30 p.m. – 9:00 p.m.
Sierra Nevada College
291 Country Club Drive
Incline Village, NV 89451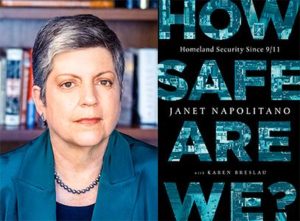 Janet Napolitano, Former Secretary of the department of Homeland Security, President of the University of California, and Advisory Board Member of Classical Tahoe, offers an insightful analysis of American security at home and a prescription for the future.
Her new book, "How Safe Are We?" is a clear-eyed, rational examination of a government office that plays a key and often misunderstood role in the lives of all AmericansHer new book,
Classical Tahoe and Tahoe Environmental Research Center Co-Present A Conversation with Janet Napolitano.
The National Security Forum has arranged for shuttle transportation from the Sierra Summit Mall to the event and back again.  These special arrangements will also provide a reception with appetizers, wine, beer and soft drinks and tickets to the event. The shuttle will depart at 5:30 pm.  The reception will be from 6:30 – 7:30.   Janet Napolitano will speak from 7:30 – 9:00 and the shuttle will depart promptly at 9:15.
The shuttle service is limited to the first 28 people who register. Payment in advance is required for the shuttle and reception. Cost is $60.
To register for this event and not take part in the shuttle and reception, follow this link. Purchase Tickets only
Bookings
Bookings are closed for this event.